WHAT OUR CUSTOMERS SAY:
Ajay Patel
Absolutely awesome product 

The smell of the citrus oil is amazing. It doesn't leave your man mane greasy but it leaves it soft the whole day long. Used with the brush my beard has now started to straighten out. ???The service has been second to none too. Have been kept in contact with since I made my purchase and suffice to say, I will defo be buying again from you! Keep up the awesome work guys and you, can defo count on my custom ????
Jay G
Instant aesthetic enhancer!

After brushing my beard, massaging the oil into it and combing it through I can immediately tell the difference. Took me far too long to get round to grooming my beard and I had gotten used to my dry, curly beard but this kit is a game changer!
Martyn Peacock
Excellent products

Being beardy has never been more popular and there are so many products online it's confusing, well look no further. I went for the mane tamer kit, including comb, brush and oil and I couldn't be more happy, they are excellent products well made and the oil has made a real difference, I highly recommend these products and company, what's more the service has been truly exceptional. So what are you waiting for….
Jacob P
Works for me!

My beard isn't quite long enough to need the comb but the oil smells fantastic and the brush seems to fill my beard out a little.
Malcolm R
Does what it says on the box

Lost my old brush when moving home so looked online for a new one. Saw this kit for like a fiver more than just a brush so thought it be rude not to go for it. Last brush definitely wasn't boar bristle and you can really tell the difference in quality. First time trying beard oil so can't compare to any others but it smells nice and makes my beard much softer.
Nina T
Best gift for my husband

After a fresh beard trim at the barbers and making good use of this kit my husbands previously unbearable beard now looks and smells great
3 Products. 1 Kit. Bang for your bearded buck.
Here's what you get:
1x boar bristle beard brush
High-quality natural beech wood
Hand-crafted, laser-engraved handle
Premium boar bristles
1x natural pearwood comb
Convenient pocket size
Dual-teeth for maximum effect
High-quality laser engraved
logo and slogan
Your choice of beard oil
All-natural ingredients
Fragrance blend of 12+ essential oils
Hand-made in small batches by
cosmetics professionals
What Makes Our Beard Oil Badass
Sweet almond oil
nourishes, potects
and repairs skin.
Jojoba oil
hydrates skin and hair to lock
in moisturise and stop itching.
Hand-Selected Natural Essential Oils
expertly blended in the UK by top perfumers to produce 3 distinct scents.
Argan oil
softens hair and brings life
back to dull, dry beards.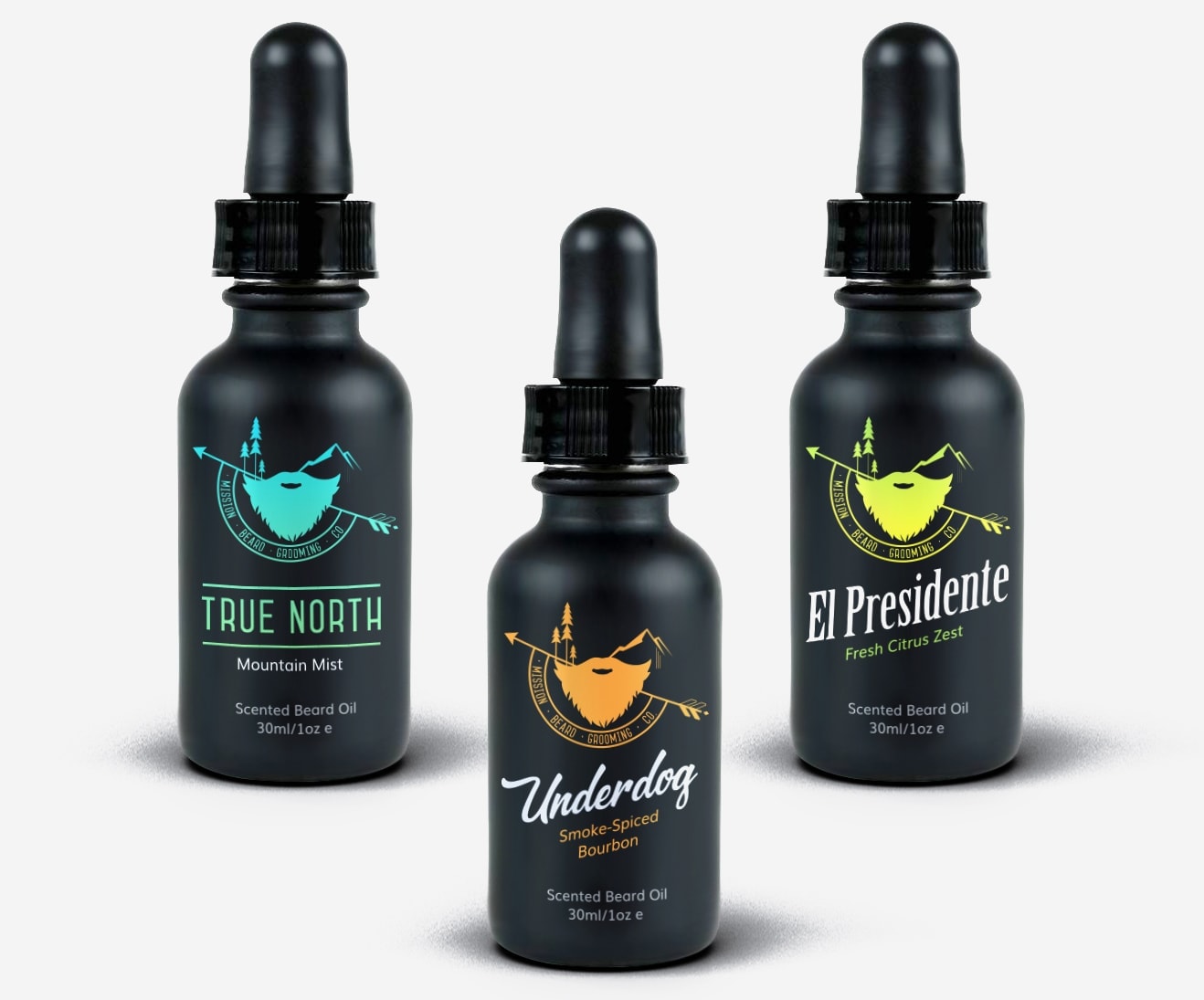 Inca inchi oil
widely considered the richest plant-based
source of fatty acids and vitamins
essential to hair growth.
Rice bran oil
silky texture, with easy absorption
to prevent unnecessary
greasiness.
Vitamin E
natural antioxidant effects reduce
hair breakage and prmote stronger,
thicker, faster growth.
Choices, Choices… Which beard oil to go for?
Our range of premium beard oils is hand-crafted in small batches,
with all-natural ingredients hand-picked for their beardy benefits.
Here's the low-down:
El Presidente
Beard Oil
A fresh, woodsy scent with notes of cedarwood, vetiver and citrus.
True North
Beard Oil
A punchy, citrus scent with notes of lemon, bergamot and cedarwood.
Underdog
Beard Oil
A rich, complex, classy scent with notes of cinnamon, hops and whiskey.
1. Soap up, sucker
Use a gentle beard soap, wash or
shampoo as required to remove dirt and
any lingering beard care products from
your beard. Be careful that the water isn't
too hot, as this can damage your beard
hair. And nobody wants that.
2. Gently towel-dry
Press the towel gently into your
face to soak up the majority of
the water.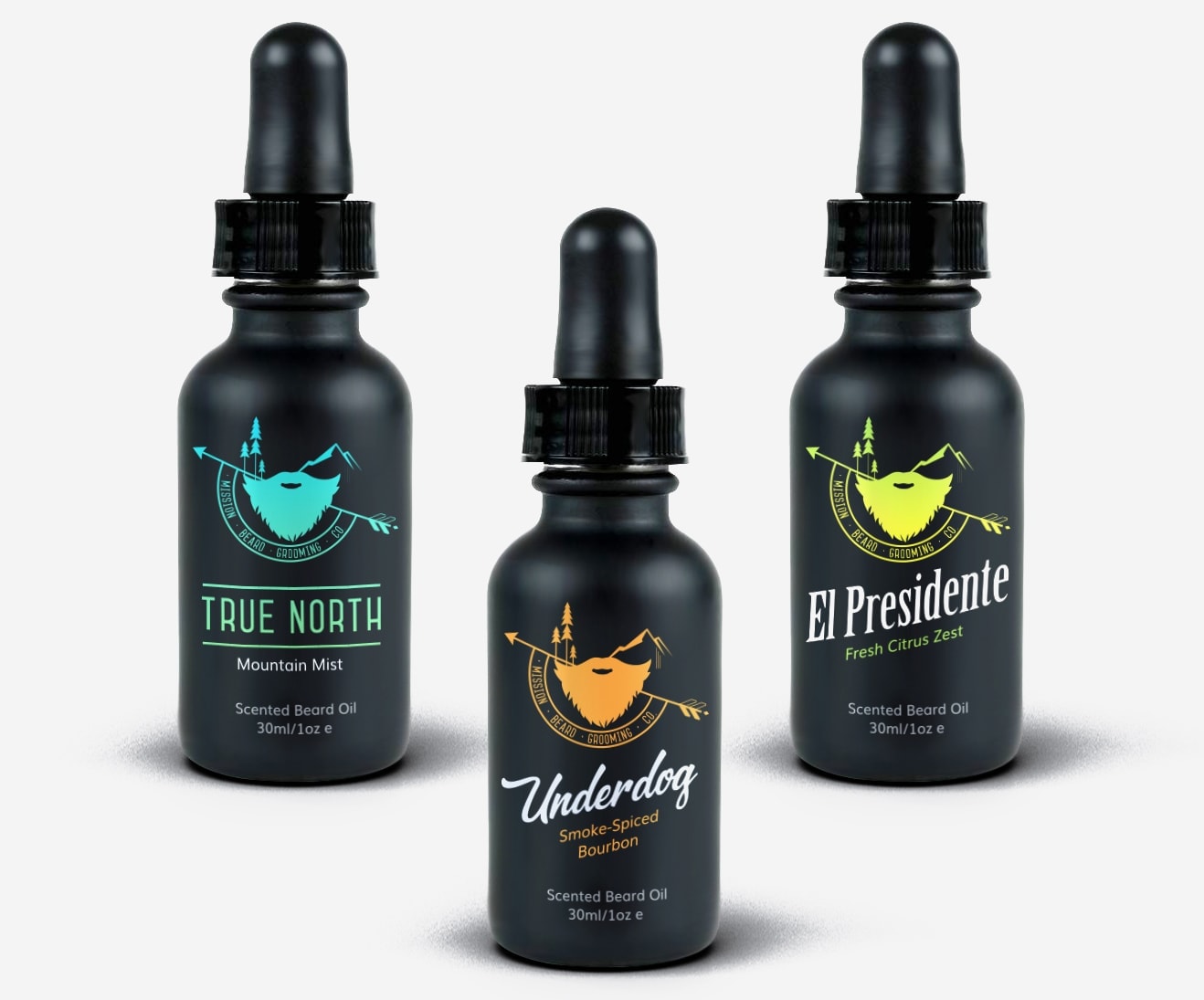 3. Apply a few drops of oil
Use the dropper to get some beard oil
into your palms. 3-4 drops for a short
beard and work up as required.
5. Rub into your beard
To get the best, most even oil coverage, work
the oil into your beard using a high-quality
boar-bristle beard brush.
4. Massage into your palms
Evenly distribute the oil between
your fingers and the centre
of your palms.
How Your Beard Will Benefit
Free from scratchy plastic
Plastic brushes might seem like they're getting the job done at the start but in the long-run, they're going to do you much more harm than good. Plastic bristles look round to the human eye, but on a microscopic level, they're jagged, meaning they'll scratch your hair. As a result, we've vowed to never use plastic in our products.
Take control of your growth
You can control and guide the direction of your beard growth with the right tool. This is that tool. Simply by brushing once a day, previously bushy, wavy and out-of-control beards can be tamed and trained to grow in a set direction.
Banish beard itch for good
The boar bristles in our brush penetrate through layers of hair to exfoliate the skin underneath and evenly distribute both natural sebaceous and beard oils, allowing for even coverage and stopping itching
in its tracks.
100% Premium boar bristles
Mission Beard's Beard Brush and Comb Kit is made from 100% natural mid-cut boar bristles, meaning they're firm enough to get the job done perfectly but soft enough to not pull at hairs or scratch underlying skin.
Make your beard kissably softer
Our Beard Brush and Comb Kit is packaged in a premium, custom box, making it a perfect gift for the bearded man in your life, or even just for yourself. Come on, you know you deserve it – treat yourself.
Premium branded packaging
Our Beard Brush and Comb Kit is packaged in a premium, custom box, making it a perfect gift for the bearded man in your life, or even just for yourself. Come on, you know you deserve it – treat yourself.
Perfect for the man on the move
Our brush is designed to fit neatly into a washkit, and the comb is the perfect size for your pocket, giving you convenient access to grooming on the go.
Reduce breakage and make your beard stronger
Regular beard brush use is known to strengthen beard hairs and fortify them against external environmental damage. Work it into your daily grooming routine, and you'll grow a bigger, stronger beard that grows more uniformly and requires less maintenance.
Why you need our beard comb
Free from Plastic
No scratchy plastic, end of. We only use
natural pearwood to create a smooth,
effective comb that's kind on your skin
and great for your beard.
Pairs Perfectly with beard oil
Our comb's firm but gentle teeth
are ideal for ensuring even beard oil
distribution so you get the most
possible benefit.
Dual-Size Teeth
For beards, one size doesn't fit all. That's why
we've created dual-size teeth – one for
removing knots and one for fine combing
and grooming.
Conveniently pocket-sized
Our comb fits snugly into your
pocket, making it a great choice for
grooming on the go.