Growing a beard is one thing. But keeping it healthy is another thing in itself.
Today, we're covering the second of the two – how to maintain the health of your beard.
Specifically, we're looking at vitamin E oil – a popular ingredient in beard oil, conditioner, and other hair-healthy products. You'll learn what it is, what it does, how to use it, and any potential side effects it may have.
So, if you're ready to embark on a mission to both strengthen and soften your beard, let's go.
What is Vitamin E?
Vitamin E is a fat-soluble vitamin – meaning it's the perfect vitamin for hair, skin, and tissue health.
No wonder it's so popular in beard oils.
Vitamin E can be found in a wide range of nuts, plant-based oils, seeds, and vegetables.
Some examples of these are:
Sunflower seed oil
Wheat germ oil
Almonds
Peanuts
Pumpkins
Asparagus
Red bell peppers.
While today we're focusing on the benefits vitamin E gives your beard, it's important to understand that vitamin E can improve your health in other ways as well. For example, it can boost your immune health, prevent blood clots, and fight off free radicals – which are unstable molecules that damage healthy tissue.
My Beard Oil Contains "Tocopherol" – is this the same thing?
In short, yes. Tocopherols are the scientific name given to the fat-soluble compounds that make up Vitamin E. So, if you see Tocopherol listed in the ingredients of your beard oil, don't worry – your product contains Vitamin E. Some beard oil companies simply opt to use the scientific name!
How To Use Vitamin E Oil For Beards
For the most part, it's relatively easy to apply vitamin E oil to your beard.
Here's the four-step process:
1. Gently Cleanse Your Beard
You don't want to apply vitamin E oil to a dirty beard. All those dead skin cells and built up oils can prevent the vitamin E oil from nourishing your beard.
For that reason, you'll start this process by cleaning your beard. We recommend using beard wash (Beardbrand makes a great product), however, you can still get the job done with warm water.
2. Dry Your Beard Until Damp
Your beard should now be clean and wet.
Now it's time to dry it. For shorter beards, you can get away with patting your beard dry with a towel. With a longer beard, it's easier to use a blow dryer on its lowest heat setting to dry it.
3. Apply the Vitamin E Oil
It's time to get out your vitamin E oil.
Between your palms spread a few drops for shorter beards (or 6+ drops for longer beards).
After you've rubbed your hands together, massage the oil into your beard as best as you can.
4. Comb Through Your Beard
Finally, we recommend coming through your beard after massaging the oil.
This ensures that the oil is evenly distributed throughout your beard – and that you don't have any excess in your beard.
If you don't have a beard brush, there's no need to worry. We've got a high-quality boar bristle brush with your name on it.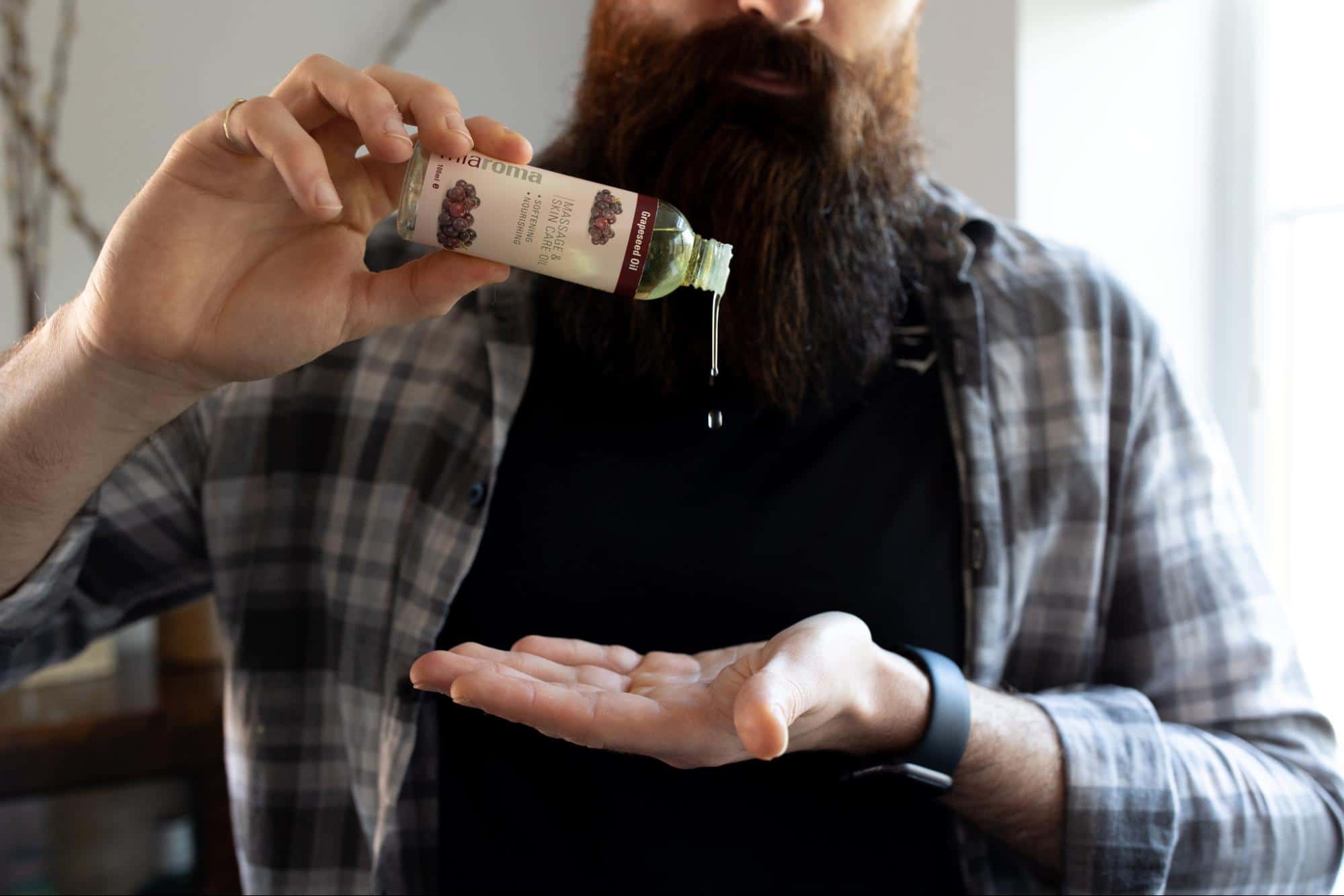 Benefits Of Vitamin E Oil For Beards
You're probably wondering what it does?
Lucky for you, that's exactly what we're covering next.
Promotes Hair Growth
A study from 2010 found that vitamin E helps stimulate the growth of new hair. The same study even determined that it could even slowly reverse hair loss.
Vitamin E does this by limiting the damage of oxidative stress on your facial hair – making it more fertile for new growth.
While it's not a magic elixir – you can sleep well knowing that vitamin E is working on promoting your beard growth.
Sometimes vitamin E not be the ingredient you need – it might just be time. Learn how long it takes to grow a beard.
Improves Hair Shine and Moisture Retention
If your beard has seen damage – either from mistreatment or environmental stress – it's probably looking dull.
That's exactly where vitamin E comes in. With a strong boost of moisture (and fatty acids), vitamin E helps replace the protective layer on your hair. That means you'll be rocking that movie star shine.
However, if you really want the most shine possible, you should be using more than just vitamin E oil. In fact, we recommend a ton of other natural oils – like sweet almond and the ever-powerful argan oil. 
Nourishes Hair Follicles
Vitamin E is essential for healthy skin – which is exactly where your hair follicles live.
In short, unhealthy skin underneath your beard can lead to less-than-ideal hair quality. Thankfully, vitamin E will moisturize your skin and hair – keeping your natural protective layer in check and nourishing each individual hair follicle.
Prevents the Dreaded Itchy Beard
Beard dandruff and itchiness often comes from malnourished and dry beards.
But, if you're using vitamin E oil you won't be struggling with this. Instead, you'll have a well-moisturized, nourished, and soothed beard that's safe from the grasp of beard dandruff.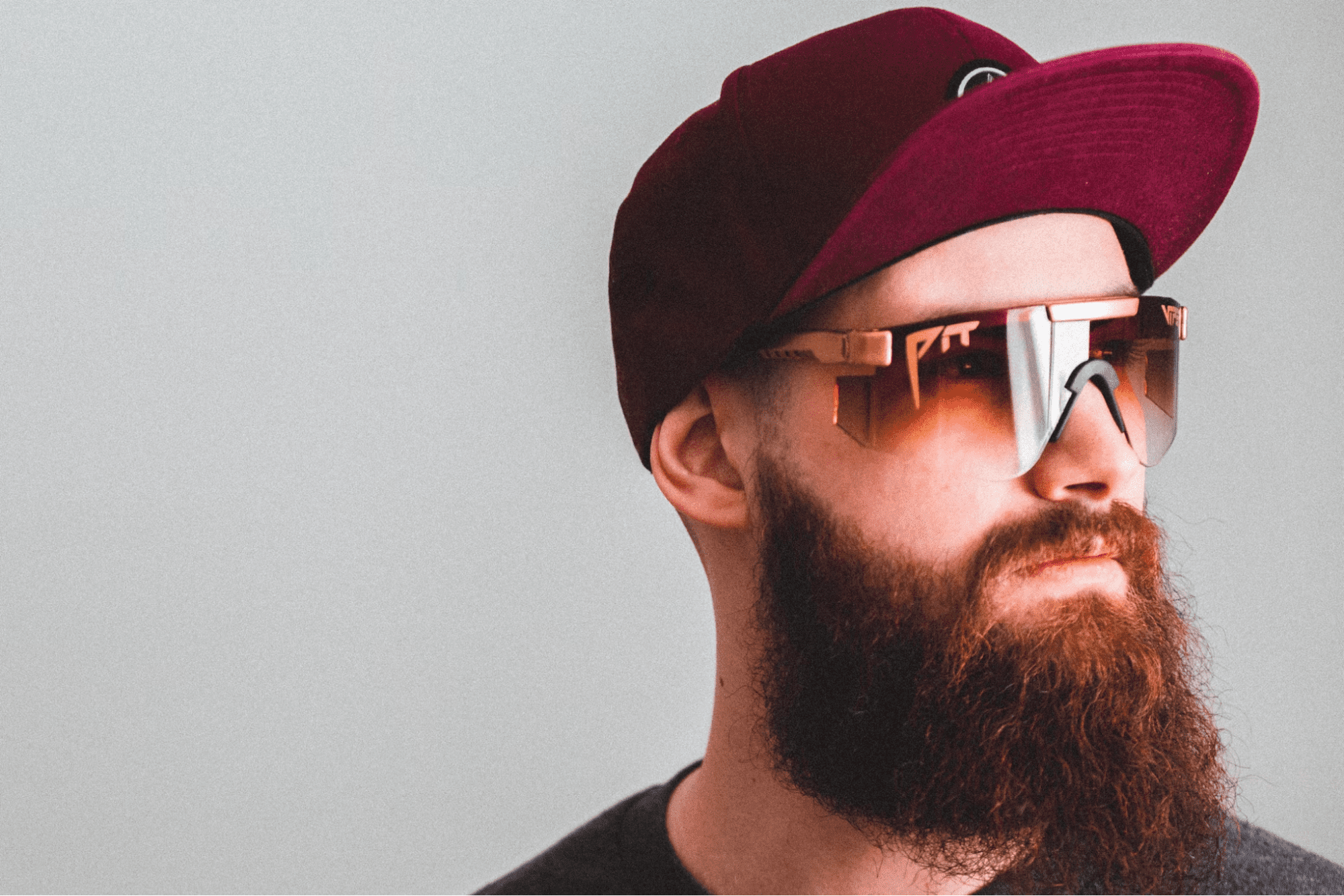 Side Effects Of Using Vitamin E Oil For Beards
You know the benefits, but what about the downsides?
Here are the top two (as well as how to avoid them):
1. Skin Irritation and Possible Allergic Reactions
When applying any new product to your skin – you'll want to be careful.
While skin irritation is not that common when using vitamin E – you should always test the oil on a visible part of your skin before applying it to your beard. That way, you know how your skin will react.
2. Breakouts and Facial Imperfections
If you have too much oil on your skin, you'll start to break out.
That's one of the reasons you should always wash your beard before applying any type of oil. If you continue to notice pimples, blackheads, or other imperfections forming when using vitamin E oil – take a step back and start using it less often.
Best Beard Oils with Vitamin E
While you can purchase vitamin E oil as is, we recommend buying a beard oil that includes it.
That's because beard oil comes with a wider range of benefits – like increased hair thickness, moisturized strands, and fewer split ends.
Here are a few products that we recommend:
Conclusion
Vitamin E is one of the key ingredients in beard oil. The best part is it's easy to apply, safe to use, and comes in many other facial hair products.
So, if you were thinking about picking up a new product that would help boost your beard heath – look no further than a beard oil with vitamin E.
As you just learned, here at Mission Beard we've got multiple beard oils with just that. But, that's not all we have. We've also got hydrating beard balm and tangle-free beard combs. You can find both of these without even leaving this site.
And if you're interested in learning more about how to grow a better and healthier beard, check out our blog – we're packed with info.